Posts for: October, 2015
By Roswell Dental Studio, PC
October 17, 2015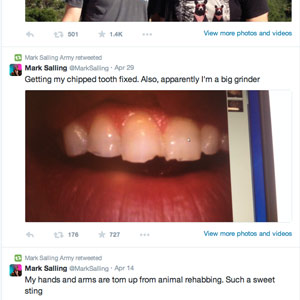 Sure, it's big news when celebs tweet selfies from the dental office… if you're still living in the 20th century. But in Hollywood today, it's harder to say who hasn't posted snaps of themselves in the dentist's chair than who has. Yet the pictures recently uploaded to Twitter by Mark Salling, the actor and singer who regularly appears as Noah "Puck" Puckerman on the popular TV series Glee, made us sit up and take notice.
"Getting my chipped tooth fixed. Also, apparently, I'm a big grinder," read the caption. The photo showed a set of upper front teeth with visible chips on the biting surface. What's so special about this seemingly mundane tweet? It's a great way of bringing attention to a relatively common, but often overlooked problem: teeth clenching and grinding, also called bruxism.
Although bruxism is a habit that affects scores of people, many don't even realize they have it. That's because the condition may only become active at night. When the teeth are unconsciously ground together, the forces they produce can wear down the enamel, cause chipping or damage to teeth or dental work (such as veneers or fillings), or even loosen a tooth! While it's common in children under 11 years old, in adults it can be a cause for concern.
Sometimes, mouth pain, soreness and visible damage alert individuals to their grinding habits; other times, a dental professional will notice the evidence of bruxism during an exam or cleaning: tooth sensitivity and telltale wear and tear on the chewing surfaces. Either way, it's time to act.
Bruxism is most often caused by stress, which can negatively impact the body in many ways. It may also result from bite problems, the overuse of stimulating substances (caffeine, alcohol, tobacco, and illegal drugs), and as a side effect of certain medications. Sometimes, simply becoming aware of the habit can help a person get it under control. Common methods of stress reduction include exercise, meditation, a warm bath or a quiet period before bedtime; these can be tried while we monitor the situation to see if the problem is going away.
If stress reduction alone doesn't do the trick, several other methods can be effective. When bruxism is caused by a minor bite problem, we can sometimes do a minor "bite adjustment" in the office. This involves removing a tiny bit of enamel from an individual tooth that is out of position, bringing it in line with the others. If it's a more serious malocclusion, orthodontic appliances or other procedures may be recommended.
When grinding is severe enough to damage teeth or dental work, we may also recommend a custom-made night guard (occlusal guard), which you put in your mouth at bedtime. Comfortable and secure, this appliance prevents your teeth from being damaged by contacting each other, and protects your jaw joints from stresses due to excessive grinding forces.
Whether or not you have to smile for a living, teeth grinding can be a big problem. If you would like more information about this condition, call our office to schedule a consultation for a consultation.
By Roswell Dental Studio, PC
October 02, 2015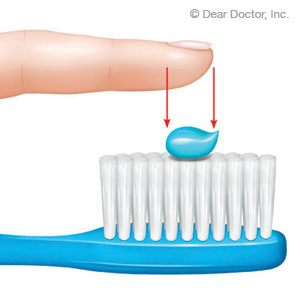 Since the 1950s fluoride has played an important role in the fight against tooth decay as an additive to hygiene products and many public water supplies. But although a proven cavity fighter, some have questioned its safety over the years.
To date, though, the only substantiated health risk from fluoride use is a condition known as enamel fluorosis, which occurs when too much fluoride is ingested during early tooth development as the mineral embeds in the tooth structure. Fluorosis can cause changes in the enamel's appearance, ranging from barely noticeable white streaking to darker visible staining and a pitted texture.
Fluorosis is primarily a cosmetic problem and not a serious health issue. The staining on otherwise sound teeth, however, is permanent and more severe cases may require extensive bleaching treatment to improve appearance. The best strategy is to prevent fluorosis by monitoring and limiting your child's fluoride intake, until about age 9.
Tooth decay is a more serious condition than fluorosis so we're not advocating you eliminate fluoride but that you keep your family's intake within safe levels. The first step is to determine just how much that intake is now, particularly if you drink fluoridated water. If you have public water, you may be able to find its fluoridation level online at apps.nccd.cdc.gov or call the utility directly.
You should also be careful about the amount of toothpaste your child uses to brush their teeth. Children under two need only a trace (a "smear") on the brush, and children between the ages of 2 and 6 a pea-sized amount. And, they should brush no more than twice a day.
Another possible concern is infant formula, especially mixable powder. While the formula itself doesn't contain fluoride, water mixed with it may. If you live in an area with increased fluorosis risk, consider breast-feeding (breast milk has little fluoride), using ready-to-feed formula, or mixing powdered formula with bottled water labeled "de-ionized," "purified," "demineralized" or "distilled."
We'll be glad to help assess your family's current fluoride intake and advise you on making adjustments to bring it into normal ranges. Taking in the right amount of fluoride assures you and your children receive the most benefit and protection from it, while avoiding future smile problems.
If you would like more information on managing your family's fluoride intake, please contact us today to schedule an appointment for a consultation. You can also learn more about this topic by reading the Dear Doctor magazine article "Tooth Development and Infant Formula."